For the past seven years I have been hiking and exploring this huge, wild and beautiful area of rugged mountains, deep canyons, rushing wild water and amazing plants. There are many species in the Sierra that dwarf the rest of their family of plants including the world's largest trees, the Sequoiadendron Gigantea, the Giant Sequoia of the western slopes of the Sierra and the world's largest lupine, the Lupinus Magnificus Magnificus that is endemic (native to) the Owens Valley and the Sierra Nevada. As I have explored the Southern Sierra I have packed along the necessary equipment to record this spectacular scenery in 360 degree panoramic photography. Here are a few samples from the Big Trees DVD which contains over 150 360 degree panoramic images from the western side of the Sierra Nevada from Kings Canyon/Sequoia National Park and the surrounding areas where the Giant Sequoia trees grow: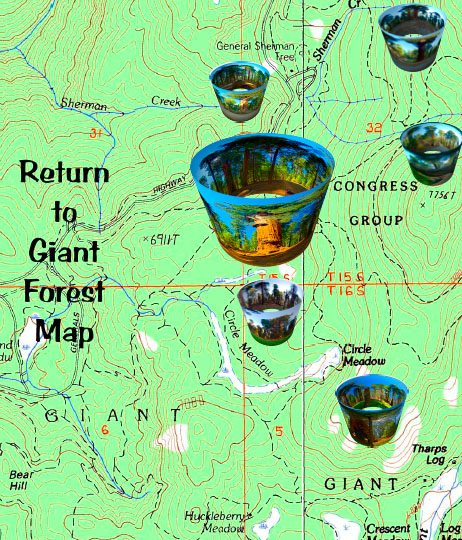 Click to open the 7.5 minute map of the Giant Forest with links to the panos of the General Sherman tree, the world's largest living thing and other views from the Giant Forest and Circle Meadow in the heart of Sequoia National Park
This DVD includes 41 7.5 minute USGS topo maps that cover the western section of the southern Sierra Nevada. It is one of the DVDs that is a subset of the material included on the Take Home the Southern Sierra Nevada in Virtual Reality DVD.